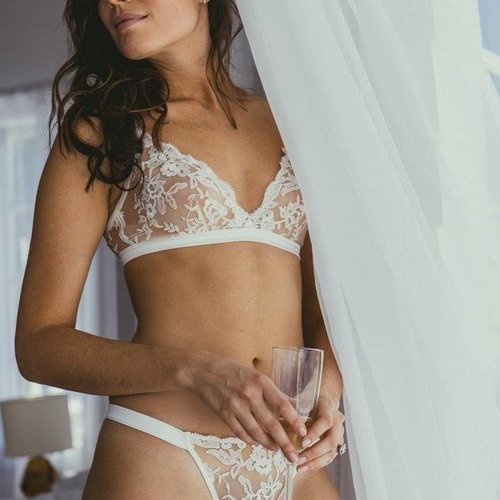 It's your big day. And instead of pulling your hair out, take a deep breath and visit us at Bellefleur. We've handpicked a collection to serve you, no matter what you're doing.
Our featured chemise and robe feature a flattering cut in a modal blend fabric; you'll never want to take this set off it's so soft. Plus, this set's lace accents give you sophisticated sex appeal perfect for your pre-wedding photos. Add a touch of our delicate spray to your look for a hint of lavender. The scent is irresistible and calming.
For something blue, wear our comfiest panty in the shop. Your special someone will love the surprise of color after the festivities.
To make your honeymoon playful and fun in the water, check out our beige-lined, white bathing suit. Its retro design flatters every figure and, it's lining makes this swimsuit opaque when on – thank goodness!
When you're not lounging by the water, slip into our Isabella Bra and Thong. The black lace overlay and subtle floral design makes this set perfect day or night.
Grab the whole collection for the perfect wedding day lingerie package!
Read more