Lingerie Care Guide
Learn How To Treat Your Bellefleur Lingerie
When you love great lingerie, and have lots of it, it makes sense to take care of it properly. If you want your gorgeous garments to last a long time, read below for the following care topics:
Mesh Bags • Washer Tips • Detergent
Drying • Silk Care • Recommended Wash Frequency
Mesh Bags
YES, you can wash your Bellefleur garments in the machine! Just put everything in mesh bags. We like to have lots of these bags around to handle the vast array of loungewear, bras, and panties we need to wash. You don't want to over-stuff the bags or else things won't get clean. Also, make sure to clasp all your clasps to help prevent tangling in the washer.
Washer Tips: 
Make sure to wash everything on the 'delicates' setting, with similar colors, and preferably with cold water. Don't forget the mesh bags!
Detergent
The detergent you use matters. We recommend using a gentle, eco-friendly detergent, such as our Soak wash, to take care of your finery. 1 bottle = 75 washes, and the formula is made entirely from plant-derived ingredients. All the scents are very clean and subtle, yet they last a long time on your clothes. This wash cleans amazingly well in cold water and works not only for delicate items, but for any type of clothing. All you need is a small amount added to your washing machine or sink!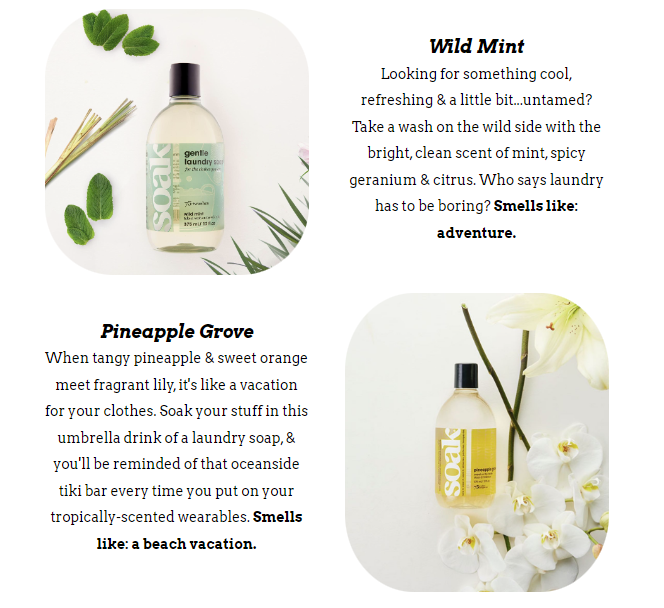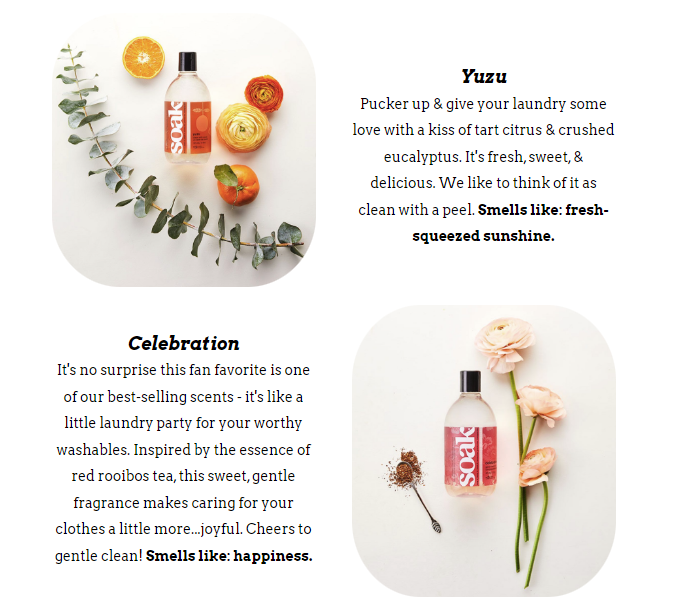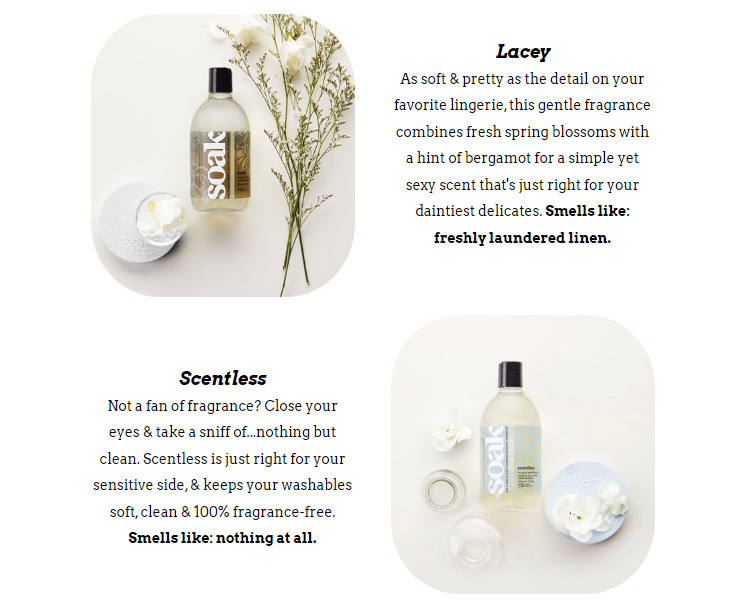 DON'T use Woolite. While marketed as safe for delicates, it actually strips away the fine fibers and elastics on lingerie, which you don't want. We don't recommend using any "conventional" detergents (such as Tide, etc.) as they are too harsh for our fine fabrics.
Drying
If you remember one thing out of this e-mail, please remember: NO DRYER. EVER. Do not put any of your Bellefleur garments into the dryer. That goes for bras, panties, pajamas, chemises, anything. All of the items we carry should be hung to dry. Invest in a (very large) drying rack so that you have plenty of space to line dry your items.
Silks
Silks are very special, and this is the one fabric we don't recommend putting into the washing machine. In order to experience the amazing feeling of wearing silk and incorporating it into your wardrobe, you have to know how to care for it. Silks don't need washing often usually, and the extra care is worth it.
Here are our special washing instructions for silk: 
Using a mild or natural soap (such as our Soak wash), hand wash your silk in lukewarm water for three to five minutes. Gently rub fabric from side to side while rinsing with cold, clean water. Remove from water but do not wring dry. Instead lay flat on a towel, roll in towel to remove excess water then leave flat to dry. Do not put in the dryer. Do not bleach. Do not leave in sunshine as fading will occur. Iron with medium heat, inside out, underneath a cotton cloth while garment is still slightly damp. Do not spray with water while ironing. You can also dry-clean silk if you want, but we feel like hand washing will likely get it cleaner and take better care of the garment over time.
Wash Frequency For Bras
Don't be afraid to wash your bras. While you don't need to wash them every time you wear them, you should wash them if you sweat or get them dirty at all. The salt in your sweat will degrade elastic over time, so it's best to get your bras clean and fresh so you'll be able to keep them supportive, and looking good for longer.
If you have any questions, you're welcome to hit reply to this e-mail, or call us at 206-545-0222.

Happy washing!
xx Bellefleur